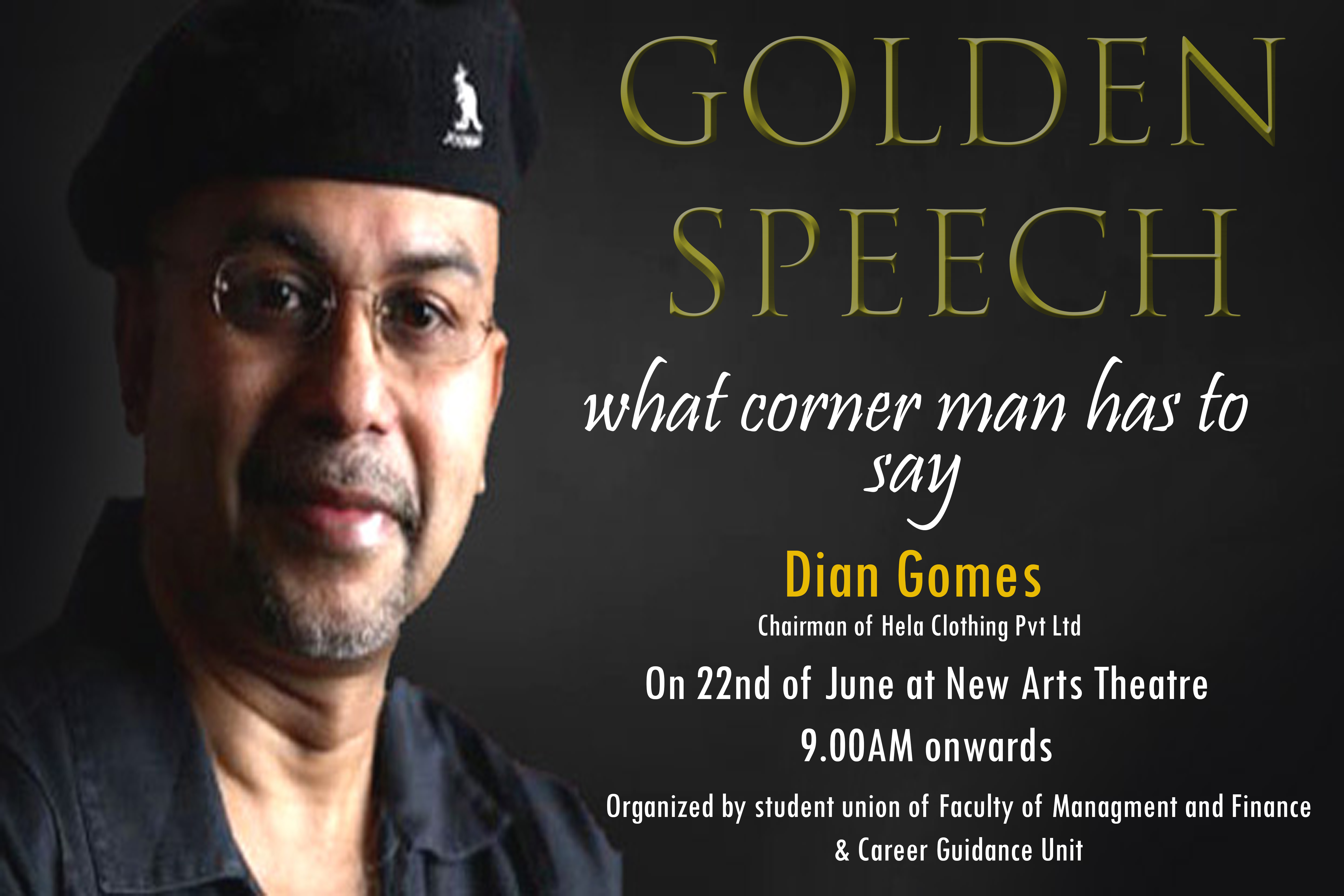 Golden Speech 2016
The inaugural FMF Golden Speech was a big success with many students participation and it was published in today's media.
We, teachers and students were happy with Gomes sir's presentation and it went on for 3 hours at the NAT.
We all are really benefited from the lecture.
This first Golden Speech was a phenomenal event in the Faculty. Gomes sir, a prominent personality with an illustrious career in the corporate sector was honoured first invitee.
Our deep appreciation goes to Saman sir, Ruwan and Nilusha and students for their wonderful support.
We are thankful to student union for the marvelous job done in organizing it beautifully.
Full video speech will soon be uploaded to web.
Article is on page 1 of Ceylon FT (23/6/16), with a continuation to page 7
http://epaper.ceylontoday.lk/TodayEpaper.php?id=2016-06-23
Image links-http://epaper.ceylontoday.lk/Process/upload/e_paper/3880.jpg
http://epaper.ceylontoday.lk/Process/upload/e_paper/3894.jpg
"A people's person, a business leader, motivator and mentor. Dian Gomes lives by one rule in life:
"Nothing is Impossible"
Dian is a transformational business leader who turned around the odds for men and women across rural hamlets in Sri Lanka, at the same time building one of the most powerful business brands with global recognition. His inspirational and upbeat approach to life in both professional and personal spheres has made him a much sought-after teacher and public speaker.
Make a positive difference in people's lives. This is the simple philosophy that drives Dian. Dian has made a profound impact among those whom he meets and interacts in all aspects of his life, business, sports, arts and social.
Here is an insight into his life, thinking and teachings. Get to know more about how Dian inspires people as he instills a revolutionary ethical culture within business in Sri Lanka. Get to know the man behind the name.
I commenced my career at KPMG Ford Rhodes under Mr. Ranjan Seevaratnam, a father-figure and a true gentleman who I greatly respect to this day.
To the adolescent mind, the world is their oyster. You want to unleash your own potential, and become the best at what you do with recognition being a key driver. However, as you mature, you realize that the honour you've achieved, the accolades you've won are materialistic. You just want to be a person who was able to make a positive impact in the life of at least one individual. This is what I too wish to be remembered as; a person who genuinely wanted the best for my people, and tried, in whichever way I could to contribute to the growth of my country. A person who initiated a change for the better"
Gunapala Ranaweerage
Coordinator/ Career Guidance Unit