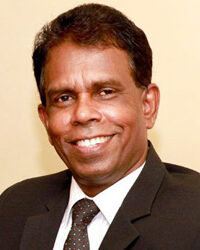 May I, as the Dean of the Faculty of Management and Finance (FMF) of the University of Colombo, extend a hearty welcome to you. This message also embodies a note to congratulate you for your being selected to read for the Bachelor of Business Administration (BBA) degree program at the University of Colombo.
The FMF is a young, vibrant, and renowned faculty in the university system in Sri Lanka and was established in the early 1990s. Our faculty is a world-class center for education and research in management and finance and has earned its reputation in terms of imparting management theory, bringing to the spotlight the state-of-the-art management practices, and advocating and promoting cutting-edge research.
The FMF offers a multitude of programs at the undergraduate and postgraduate levels by keeping in line with challenges faced by the new business world, adhering to high standards of management education, and continuously improving its academic programs. Currently, it consists of seven departments which offer nine BBA programs of a four-year duration in accounting, business administration, business economics, finance, hospitality and leisure management, human resources management, international business, management & organization studies, marketing, and business administration. At the postgraduate level, the MBA program offered by the FMF is consistently ranked high and reputable across the world. Our faculty also offers a doctoral degree program in management studies.
We take pride at all times of our academics who have excelled in learning and teaching, maintaining a high level of commitment to delivering worldclass management education with an innovative pedagogy, organizing industrial training, and combining academic programs with co-curricular events. And also, by meticulously focusing on research to keep abreast with changes taking place in the modern business world. The quality of the faculty in terms of teaching excellence and research productivity has been a prime driving force of our continued success. We create among the faculty members and students a sense of excitement, commitment, and devotion.
We look forward to nurturing our undergraduates who will have the knowledge, skills, attitudes, values, and commitment required to making a better world for everyone.
May I wish you an intellectually rewarding candidature in your bachelor's degree program.
Professor. M P P Dharmadasa
Dean, Faculty of Management and Finance