The necessity of establishing a separate unit to coordinate the activities of the first two years of the BBA Degree Programme arose with the introduction of the semester system in the revised BBA Program in 2004. Subsequently, the Academic Affairs Unit was established by the Faculty in the same year.
The main feature of this semester-based curriculum is the design of the BBA Programme with eight semesters: Semesters I, II, III, and IV encompass the first two years as a common program, while Semesters V, VI, VII, and VIII offer two years of specializations based on students' interests and performance during Semesters I, II, III, and IV of the program. Students do not belong to any specific department until they reach Semester V of the Degree program. However, under the new curriculum implemented in the academic year of 2024, the common program has been shortened to three semesters, and students will specialize in their preferred field starting from Semester IV. The selection criteria will include the student's preference, department capacity, and z-score.
The Academic Affairs Unit is directly responsible for coordinating the academic program of Semesters I, II, III, and IV until the 2023 intake. From the 2024 intake onwards, the unit is responsible for Semester I, II, and III of the BBA Degree programme. The unit is currently in charge of preparing semester and examination timetables for all semesters of the BBA Degree Programme. It also maintains records on student lecture attendance for the common program and is responsible for selecting students for specialization. At present, the unit is staffed with a Coordinator and a Management Assistant. Any student requests concerning the common program should be directed to the Coordinator of this unit.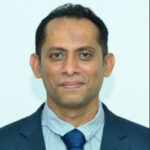 Dr. M.A. Yasantha D Madurapperuma
[PhD (Republic of Korea), MSc in MIT (Kelaniya), BCom (Col), CTHE (Col)]
Senior Lecturer