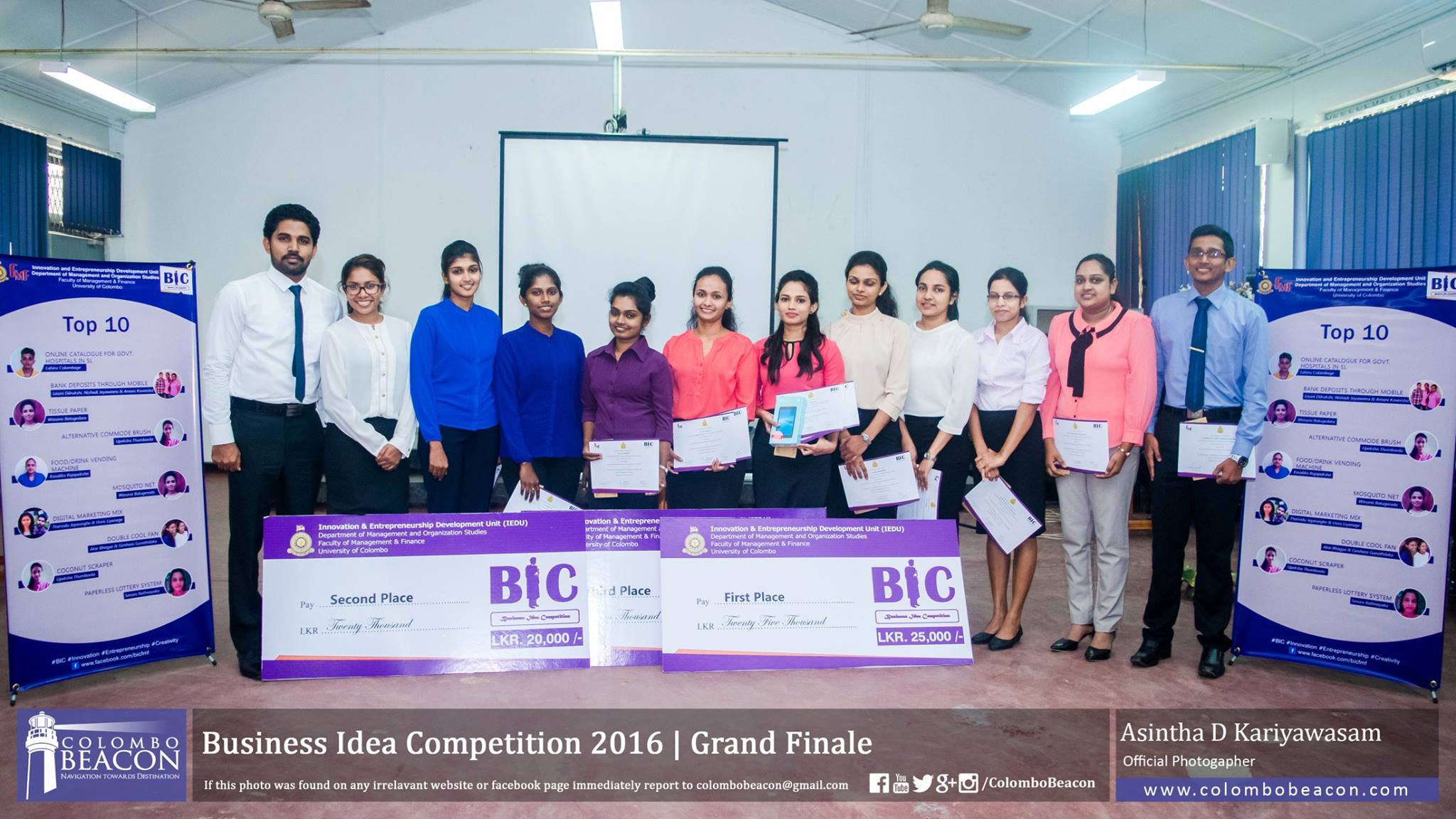 BIC 2016 | Grand Finale
The Grand Finale of Business Idea Competition (BIC) 2016 organized by Innovation and Entrepreneurship Development Unit (IEDU), Department of Management and Organization Studies (MOS), Faculty of Management and Finance, University of Colombo was successfully held on February 09, 2017 at the Faculty Premises.
BIC is expected to foster idea generation and the commercialization of the business ideas of the first and the second year students of the faculty. It is inaugurated in 2016 and supposed to be an annual event through which the students will be recognized for their creativity and innovation for new products, new services, new technologies and new solutions to a prolonged dilemma common to all organizations.
The event was graced by the participation of the Vice Chancellor of University of Colombo, Senior Professor Lakshman Dissanayake as the Chief Guest, the Chairman of Master Divers, Mr. Ariyaseela Wickramanayake as the Guest of Honour, the Chairman of Inventor's Commission, Dr. Mahesh Edirisinghe as the Keynote Speaker and many more distinguished invitees from the academia and the industry.
The Grand Finale enabled the top ten ideas which were selected by an evaluation panel consisted of academics and industry experts on December 16, 2016 to present in front of the industry representatives and the university community. Out of the ten, top three business ideas were selected at the Grand Finale.
Medical Tissue Paper by Ms. Wasana Batugedara emerged as the first place while Alternative Commode Brush and Coconut Milk Machine by Ms. Upeksha Thumbovila claimed the second and the third places respectively. The competition yielded financial and non-financial benefits for the finalists.