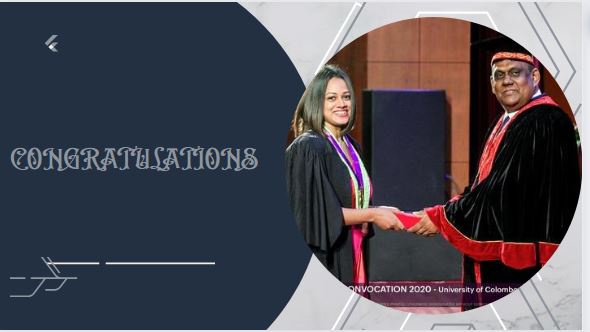 The General Convocation 2020 – University of Colombo
The General Convocation 2020 of the University of Colombo was held on the 23rd and 24th of July 2022 at Bandaranaike Memorial International Conference Hall (BMICH). The event was held under the auspices of the Vice Chancellor, Senior Professor H.D. Karunaratne, Rector, Deans of the Faculties, Directors of Institutes, Registrar, Acting Librarian, Bursar, academic and administrative staff, and graduands.
Graduands were conferred with the Bachelor of Business Administration and Bachelor of Business Administration Honours Degree by the Vice Chancellor.
Following students were awarded Gold Medal for their excellent performance.
MBA Graduate Award III – SWN Sandaruwani
Aitken Spence Gold Medal for Management Accounting – A. Veambadi
Sri Lanka Association for Securities and Investment Analysis Gold Medal for Financial Management – SWN Sandaruwani
CLC Gold Medal for Best Performance in MOS 1300 Management Process and Practice in the Bachelor of Business Administration Degree Program – SM Saparamadu
Link Natural – Dr. Devapriya Nugawela Gold Medal for the Best Overall Performance In Bachelor of Business Administration in Human Resource Management – DAR Warnakulasuriya
Commercial Bank Gold Medal for the Best Performance in Bachelor of Business Administration in Accounting Degree Programme – CH Patrick
Thrimali Dharmasiri Gold Medal for the Best Performance in the Subject of Marketing Management in the BBA Degree Program – SN Abeysekera
Chartered Institute of Marketing, Sri Lanka Gold Medal for the Best Performance in Bachelor of Business Administration in Marketing Degree Program – V Thavendrakumar
Association of Chartered Certified Accountants (ACCA) Gold Medal for the Best Performance in Financial Accounting of the Bachelor of Business Administration Degree Programme – V Thavendrakumar
NOLIMIT Gold Medal for the Most Outstanding Performance in Global Marketing – WDST Navodya
Suntel Gold Medal for the Most Outstanding HRM Graduate of the Year – IR Warnapura and SS Suraweera (Jointly)
Professor JASK Jayakody Memorial Gold Medal for the Most Outstanding Student of the Year – AP De Silva
Canekeratne Prize for Merit – AP De Silva (Jointly)
Student of the Year Award – AP De Silva (Jointly)