Home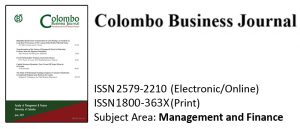 Overview
The Colombo Business Journal (CBJ) is a double-blind peer-reviewed scholarly journal in the field of business and management. It is published twice a year (June and December).
Aims and scope
CBJ aims to publish scholarly work in the field of business, management and organizations in the local, regional and global arena. Thus, its aim is two-fold: (1) to create a forum for exchanging views and launching intellectual debates among scholars and researchers in the field of management and (2) to advance the theory and practice of management through construction of new knowledge. CBJ is not restricted to a specific research paradigm, and thus welcomes submissions adopting a variety of methodologies and methods: quantitative, qualitative, and mixed. It entertains analysis at individual, divisional, organizational and inter-organizational levels. Embracing multidisciplinary perspectives for enhancing understanding, it encourages crossing borders and bringing insights from disciplines such as sociology, psychology, economics, and philosophy.
Types of work published in the CBJ includes:
Research Papers
Other
Open Access
The CBJ provides immediate open access to its content on the principle that making research freely available to the public supports a greater global exchange of knowledge.
The articles are freely available online and are licensed under a Creative Commons Attribution 4.0 International License
Fees
CBJ does not charge any submission, processing or publication fees.
Publisher
CBJ is published by the Faculty of Management and Finance, University of Colombo. However, the faculty administration does not involve in the editorial decision making of the CBJ which is vested solely in the Editorial Board of the journal.