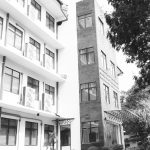 THE POSTGRADUATE & MID-CAREER DEVELOPMENT UNIT
Although the history of the Master of Business Administration (MBA) Programme at the University of Colombo runs into more than three decades, the Faculty of Management and Finance created the Postgraduate & Mid-career Development Unit (PGMCDU) in 2003 to coordinate all its Postgraduate and Mid-career development programmes in addition to the academic departments, which provides academic leadership in different disciplines,. The main objective of this Unit is to develop, organize and ensure the smooth functioning of postgraduate and mid-career development programmes for executive and managerial staff of modern day organizations with the ultimate goal of enhancing managerial capabilities for the betterment of our society. At present, the PGMCDU conducts several programmes such as MBA, MBA in Finance, MBA in HRM, MBA in Marketing, MBA in Accounting & Information Systems, MBA in International Business, Executive Master of Business Administration, Post-graduate Diploma in Banking and Finance, Executive Diploma in Business Administration (EDBA) and Doctor of Business Administration Programme (DBA). In addition to the regular Doctorate, Master's and Diploma programmes, tailor made training programmes on management are also organized by this unit to train the employees of any particular organization on request.
This unit is staffed with a Unit Coordinator, Programme Coordinators, supporting staff and equiped with other neccessary resources. While the Unit Coordinator gives the academic and administrative leadership to the overall activities of the Unit, each programme coordinator gives academic leadership and is directly responsible for the smooth functioning of the activities of the programme under his or her purview.