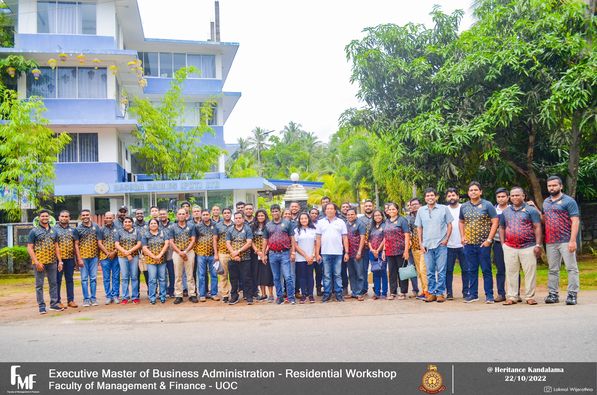 The residential workshop and field visit
The residential workshop and field visit organized by the Postgraduate and Mid-Career Development Unit, Faculty of Management & Finance, the University of Colombo for the Executive MBA 2019/21 batch and 202/22 batch was conducted on the 21st, 22nd and 23rd of October 2022 at Heritance, Kandalama.
This three-day workshop comprised agriculture field visits, factory visits, a CEO forum, a motivational speech and nature-related activities.
The first session of Day – 01 on the Organic agriculture field visit at Leslie's Agro products (Pvt)ltd. The students could observe the vermicompost processing whilst the second session was visiting Rasoda Dairy Product (Pvt) Ltd as a factory visit. Mr.Daminda Perera, Managing Director at Rasoda with his team, welcomed the students and guided them to the factory visit, followed by the Q & A session.
The second workshop day mainly focused on the CEO forum and a motivational speech. Mr.Jagath Disanayake, CEO of Pentium 2000, made a great speech on his successful entrepreneurial journey. The evening session of the same Day was allocated for Dr Ranil Sugathadasa, senior lecturer and a well-known motivational speaker. He conducted experiential training and team spirit building, including challenging indoor team activities.
The third-day morning session was allocated for nature-related activities, including visiting Hurulu Eco Park.